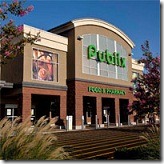 Publix stores in Florida are offering a deal that saves shoppers $10 on gasoline.
The deal requires shoppers spend a minimum of $50 on groceries. 
The deal also requires a coupon from the print version of the weekly ad, which should be available in the stores. They are not available online.
The coupon entitles the shoppers to buy a $50 gas card for $40. The deal is offered to June 19 or June 20, depending on the region.
Most, if not all, Publix stores in Florida are participating.
For the minimum grocery purchase of $50, some products may be excluded. 
  For information, phone 800-242-1227
Category: shopping
Patti Roth, the editor ofFort Lauderdale on the Cheap, scouts out state and national deals, discounts and coupons for our readers, finding the real deals and presenting them in an easy-to-read format. A veteran newspaper and magazine writer and a longtime South Florida resident, she has written for The Miami Herald, The Sun-Sentinel in Fort Lauderdale, Florida Travel and Life, E Environmental Magazine, Dog Fancy, Cat Fancy, US Architecture and Earth911.com