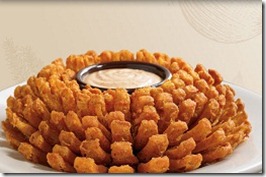 During the weekend, driver Ryan Newman performed well enough in a NASCAR event to prompt Outback Steakhouse to offer a free Bloomin' Onion.
The free onion dish  is available at participating Outback Steakhouse restaurants by mentioning "Ryan Newman" with any purchase. The offer is available July 9.
Outback offers free Bloomin' Onions on Mondays after Newman places in the top 10 of a Sprint Cup event.
Category: Food and Drink
Patti Roth, the editor ofFort Lauderdale on the Cheap, scouts out state and national deals, discounts and coupons for our readers, finding the real deals and presenting them in an easy-to-read format. A veteran newspaper and magazine writer and a longtime South Florida resident, she has written for The Miami Herald, The Sun-Sentinel in Fort Lauderdale, Florida Travel and Life, E Environmental Magazine, Dog Fancy, Cat Fancy, US Architecture and Earth911.com