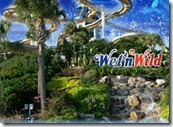 Florida Residents are eligible to purchase a regular daily  ticket for Wet 'n Wild in Orlando and receive free entry almost any time during the same year.
The general adult entry fee $55 and tax. That's the price for non-Florida residents, and it's also the fee for Florida residents who request a ticket for free access the rest of the year, with some exceptions.
For single-day guests, the regular Florida resident fee is $35 and tax.
Information on the deal and other ticket deals  is available on the web site or phone 407-351-1800
Thanks Orlando On The Cheap.