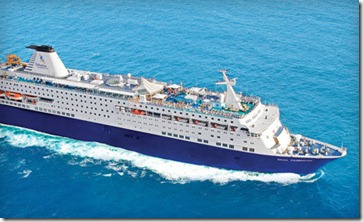 Travel with a pal  to the Bahamas aboard an amenity-packed ship for a discount price of  $199.
The value of the deal is up to $478.
The offer is  a two-night Bahamas cruise for two people on Celebration Cruise Line from West Palm Beach.
Information about the offer is featured on the link — $199 for two from West Palm Beach to Bahamas.
Groupon is an advertising partner of On The Cheap.
Category: daily deals, travel
Patti Roth, the editor of Fort Lauderdale on the Cheap, scouts out state and national deals, discounts and coupons for our readers, finding the real deals and presenting them in an easy-to-read format. A veteran newspaper and magazine writer and a longtime South Florida resident, she has written for The Miami Herald, The Sun-Sentinel in Fort Lauderdale, Florida Travel and Life, E Environmental Magazine, Dog Fancy, Cat Fancy, US Architecture and Earth911.com