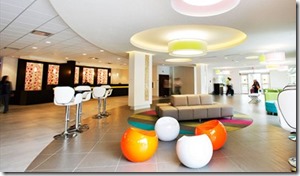 Rates at a resort in Orlando are $59 to $99 in this deal.
The deal from Travelzoo is for one night at Avanti Resort.
A rate of $59 is for elgible trips  to June 19 and August 18 to September 30. For trips June 20 to August 17, the rate is $79. For a different level of room, rates are $75 and $99. Resort fees are extra. Some dates are excluded from the deal.
Information about the deal is featured on the link, deal at Avanti Resort in Orlando.
Other vacation deals in Florida are featured on Living Social Escapes and Groupon Getaways.
Category: daily deals, Hotels & Lodging
Patti Roth, the editor of Fort Lauderdale on the Cheap, scouts out state and national deals, discounts and coupons for our readers, finding the real deals and presenting them in an easy-to-read format. A veteran newspaper and magazine writer and a longtime South Florida resident, she has written for The Miami Herald, The Sun-Sentinel in Fort Lauderdale, Florida Travel and Life, E Environmental Magazine, Dog Fancy, Cat Fancy, US Architecture and Earth911.com